The year in Nazi propaganda: images of white supremacy in Trump's America
How should staged neo-Nazi acts of intimidation be handled? Some say they should be ignored, others insist the media must bear witness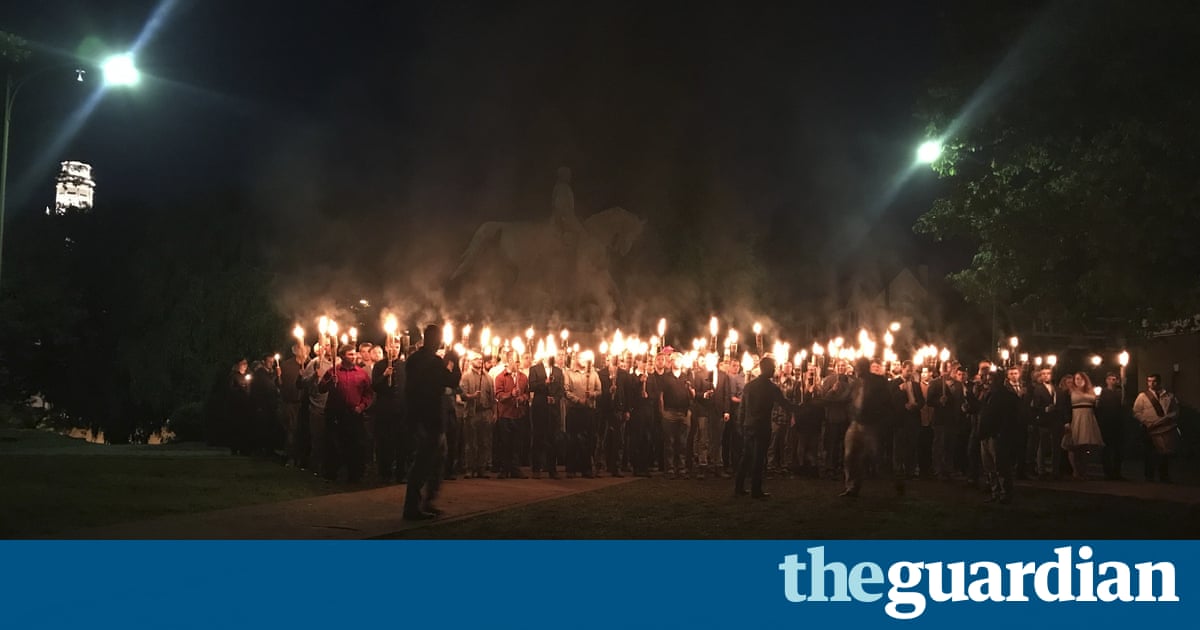 In May, a few dozen white supremacists gathered after dark in a park in Charlottesville, Virginia. They had brought garden torches and candles, and they set them aflame while posing in front of a statue of confederate general Robert E Lee that Charlottesville was trying to remove.
The demonstration in front of the statue lasted about 10 minutes, according to one local report. But before the police arrived and dispersed the provocateurs, who were led by Richard Spencer, a white nationalist most famous for getting punched in the face, the flames had attracted the attention of local TV news cameras and a local newspaper reporter, who took a photograph of the men with their flaming torches and shared it on Twitter. The photo, with the outline of the slave-owning general rising out of the smoke, was widely republished around the world.
The May torch rally was one of the first of a series of increasingly violent white supremacist provocations that culminated in an 12 August rally that brought hundreds of white supremacists to march in the streets of Charlottesville and engage in open clashes with counter-protesters. By the afternoon, a car attack on peaceful demonstrators left 32-year-old Heather Heyer dead and dozens more injured. A young white man who marched with the white nationalists was charged with murder.
The violence in Charlottesville forced city leaders and law enforcement officials to re-examine what they did, and failed to do, to prevent neo-Nazis from terrorizing an entire town. The citys police chief resigned in December after a public report faulted the police for making choices that failed to keep the city safe.
Media organizations have faced their own reckoning over their coverage of white supremacist groups. Some critics have argued that it is dangerous and unnecessary to give fringe racists prominent coverage, and that simply ignoring their public stunts would be a safer choice. Others have argued that in a country where the president responded to a violence neo-Nazi march by condemning the violence of both sides, and suggested that there were very fine people who marched alongside the Nazis, media organizations have treated open white supremacists too much as freaks or aberrations, failing to investigate their ties to Americas systemic racism and its more circumspect and powerful racists.
For the past year, news organizations have struggled to strike the right balance: when is covering of fringe far-right groups necessary, and when does coverage serve only to heighten the profile, and the influence, of conspiracy theorists and racist extremists?
The coverage of the August rallies in Charlottesville which clearly documented the extremism and the violence of white supremacist groups was widely seen as newsworthy. On 11 August, a coalition of white supremacists led a larger torch march across the University of Virginias campus, chanting You will not replace us! and Jews will not replace us! By August, the young white men with torches were not posing briefly in the shadows. They were marching so openly that they could be easily identified and many were, prompting some families and employers to publicly repudiate their racist advocacy.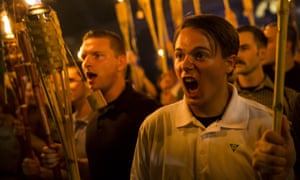 ---
Latest posts