Hope, pride, fear: how North Koreans feel about their homeland
The little evidence seeping out of the repressed nation suggests its people are growing weary of their masters but still harbour a burning hatred for the US
Though North Korea consumes an extraordinary amount of international attention for such a small and impoverished country, the Hermit Kingdom remains remarkably closed. We still know very little about what its people think. We know what they say when they meet visitors; but those who get to meet foreigners are at the top of society, and they speak under constant scrutiny and threat of punishment. We know what defectors say; but they are people who have chosen to and managed to leave, and thus are by their nature atypical.
Our best indication is what North Koreans say when they are working illicitly in China, though even then their views are skewed by their experience of living in border areas and venturing abroad. A few are able to share their views from inside the country, using illegally owned Chinese phones that can pick up mobile signals along the border, but can be used for only a few minutes lest they be traced.
We do know that North Koreans have good reason to be afraid of American military might. The country was flattened by US airstrikes in the Korean war. It is structured around the idea that it is still at war (technically true: no peace treaty was signed at the end of the conflict, only an armistice). The leadership has long blamed foreign aggression for the countrys economic struggles. These lessons start early; in primary school maths classes, pupils calculate the number of American imperialist bastards killed by the Korean peoples army. Recent history has only reinforced the dire warnings from the leadership: George W Bush singled it out as part of the axis of evil before invading Iraq.
Many in the elite will conclude, not least from that example, that their fates are directly tied to Kim Jong-uns. The familys aura, though diminished, remains part of the regimes survival strategy and were he removed by outsiders, they could well face the loss of their comfortable lifestyles, criminal trials or even death. There may be others who would be more willing to jettison him in theory; the faultlines and tensions at the top have grown more obvious, and Kims ruthlessness in purging and executing his uncle in 2013 will have sent a shiver through the ranks.
But US intelligence on the top figures in the regime is poor, and while Seoul is understood to know much more about the family networks at the heart of power, it is thought even they struggle to map particular individuals, interests and conflicts. Nor is it clear given that key personnel tend to move between party and military posts whether individuals could bring institutions with them.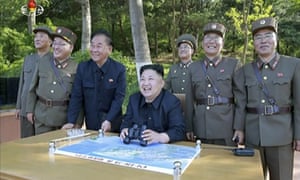 Read more: https://www.theguardian.com/world/2017/aug/10/hope-pride-fear-how-north-koreans-feel-about-their-homeland