DeShone Kizer, Kevin Durant and the myth of the wayward black athlete
African American athletes can be everything: grand slam champions, Olympic medalists, explosive, magic. Everything, that is, except benign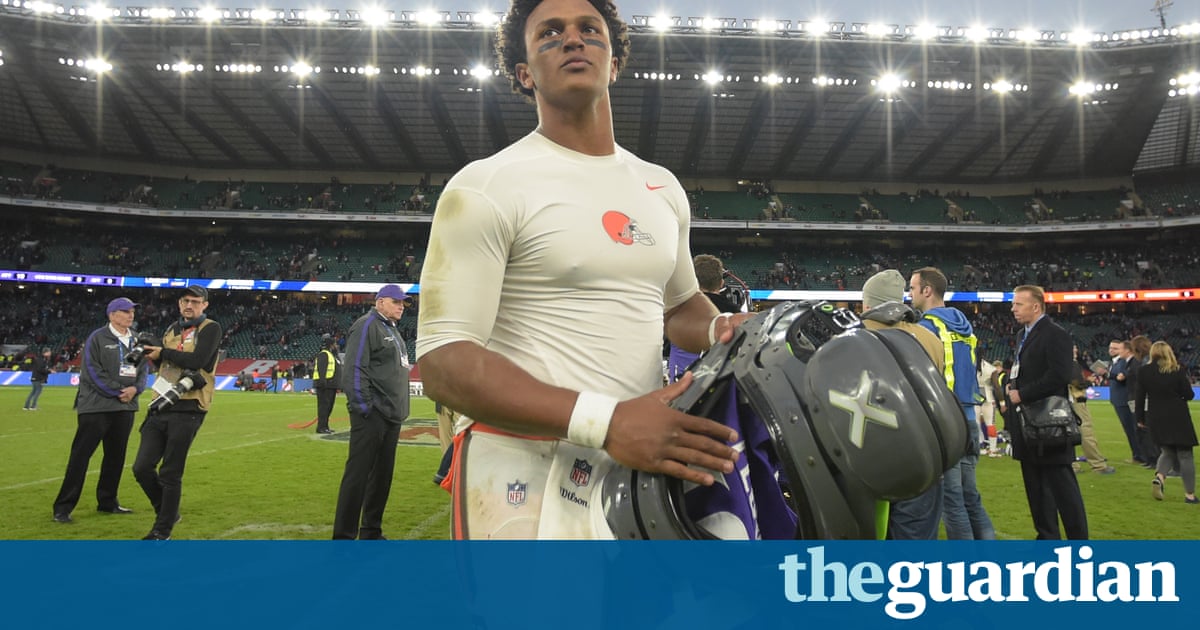 Whats a brother gotta do to catch a break in sports? Asking not for myself, a black sportswriter, but for a friend. OK, not for a friend. For DeShone Kizer, the beleaguered rookie quarterback of the terrible Cleveland Browns.
Early one Saturday morning last month Kizer ducked into a downtown bar for a break, a bit of release. The pressure on him at the time surely pinched, what with the Browns being 0-6 and his passer rating at a league-worst 27.3. He is of legal drinking age, didnt break any laws and didnt violate any sacrosanct policies held by the team. But a Zapruder-grade Snapchat video emerged of Kizer at the bar although he looks less like a starting NFL quarterback than a rebel prep-schoolboy as he attempts conversation on the fringe of a loud and crowded dance floor.
A local TV station went on to cover the story like it was the Paradise Papers. Naturally, these findings quickly found their way into a news conference with the Browns coach, Hue Jackson, who was sympathetic to Kizer at first. A guys personal time is his personal time, he said. Id be surprised if that happened. I dont think DeShone has that kind of character or personality that way.
But when a reporter from the station that scored the video insisted to Jackson that, yes, not only did this night out happen, but to a guy trying to learn the playbook, the coach shifted support. Youre right, he told the reporter. I appreciate you guys sharing that with me.
Youd think that Jackson, a man who makes a living breaking down tape, could see the Kizer video for the gotcha moment that it is. Youd think that Jackson, a black coach, could appreciate how often black athletes feature in such gotcha moments. But, no. Confirmation bias against black athletes is so pervasive that its practically conventional wisdom. Even when they dont do anything wrong, they must be guilty of something.
Its a pretzeled logic that springs from decades of media conditioning or so reasons Dr Cynthia Frisby, the University of Missouris School of Journalism professor behind a 2016 study that examines how black male athletes are portrayed in the media. After analyzing a decades worth of clippings, she found that black athletes received significantly more negative coverage hard news stories about domestic and sexual violence, in other words. Meanwhile, their white counterparts the minority group in the landscape of big-time sports, ironically get the opposite: softball features about drive and commitment.
Whats more, the sisters cant catch a break either. In the last four months alone weve seen Serena Williams caricatured in antiquated style, as a big ol brute this time in a recent memoir by Maria Sharapova, an oft-vanquished peer who happens to be five inches taller than the American. And weve seen Simone Biles shamed for having the audacity to go on holiday after dominating the gymnastics at the Rio Olympics. Weve been reminded that black athletes can be everything: grand slam champions, Olympic gold medalists, explosive, magic. Everything, that is, except benign.
Kevin Durant knows. Last month the Golden State Warriors forward was ejected from a road game against the Memphis Grizzlies, and heckled by fans on his way out. To silence them, he raised his ring finger, a nod to the championship he led the Warriors to last season, and was immediately accused of flipping off the crowd. The confirmation bias was obvious, so much that Durant had to laugh about it afterward: Im sure everyone thinks Im the angry black athlete, he said.
How could he not be when weve been conditioned to believe that the angry black athlete can literally be every one. They can be Curt Flood or Muhammad Ali or Colin Kaepernick, entitled to their anger. They can be Latrell Sprewell or Terrell Owens or Floyd Mayweather, hot-blooded. They can be Durant, the mamas boy who delivered one of the all-time Hallmark moments in sports with his league MVP acceptance speech three years ago. Ultimately it wont matter because they all look the same like inmates running the prison.
Those, of course, were the immortal words Houston Texans owner Bob McNair used in reference to NFL players using the national anthem as a platform to protest a justice system thats equally demonizing of black men. Frisbys study underscored this point in her survey, which cites research that arrived at three dominant media images of black men: entertainers, athletes and criminals. Donald Trump also underscored this point when he dismissed genuflecting players as sons of bitches. Kizer, among those protesters, was quick to respond. Im no son of a bitch, he said.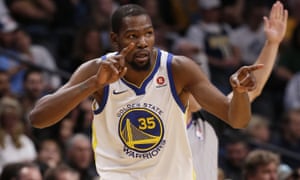 Read more: https://www.theguardian.com/sport/blog/2017/nov/15/deshone-kizer-kevin-durant-and-the-myth-of-the-wayward-black-athlete