Ant Financial Raises MoneyGram Bid 36% to Fend Off Euronet
Ant Financial raised its agreed offer for MoneyGram International Inc. by 36 percent as the financial-services company controlled by Chinese billionaire Jack Ma tries to top a competing offer.
The revised bid is worth $18 a share in cash, up from a previous offer of $13.25, the companies said in a joint statement. The new deal, which has the backing of MoneyGram's board, values all the common and preferred stock at $1.2 billion, it said. Euronet Worldwide Inc. last month offered $15.20 a share for the Dallas-based payments company.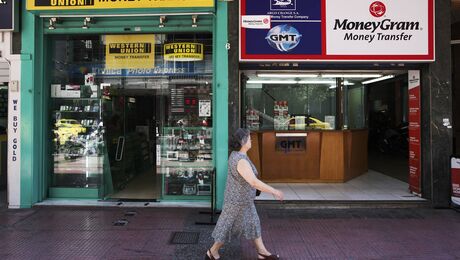 By raising its bid, Ant Financial is seeking to head off any potential switch in the board recommendation in favor of Euronet as MoneyGram directors considered the competing bid. The Chinese company could still face potential political obstacles, with American lawmakers urging the powerful Committee on Foreign Investment in the U.S. to conduct a "full and thorough" review of the deal.
"You have two issues; what are MoneyGram shareholders going to receive? And that's what Ant Financial is addressing with a revised bid," said Kirk Boodry, an analyst at New Street Research. "Politics is the other issue that really stands out here and Chinese companies have struggled to get deals done in the U.S."
For Gadfly's take on the revised bid, click here
Euronet has said its offer has a better chance at regulatory approval. The Leawood, Kansas-based company didn't immediately respond to emailed requests for comment outside normal business hours. Shares of MoneyGram closed Thursday at $16.51.
President Donald Trump has taken a hard stance on China since taking office, increasing the chance Ant Financial's bid will be closely scrutinized by CFIUS, an inter-agency panel that examines acquisitions of companies by foreign investors. The White House can stop the deal, and Treasury Secretary Steven Mnuchin is the chairman of the panel.
Ant Financial first announced its offer in January as it steps up an international expansion to build on its strength in China. Formally known as Zhejiang Ant Small & Micro Financial Services Group Co., it hundreds of millions of users and provides wealth management, insurance, credit checks and consumer loans. It also owns Alipay, the dominant payments platform on China's largest e-commerce operator.
"We plan to grow the U.S.-based team and create even greater opportunities for the MoneyGram community," Doug Feagin, Ant Financial International's president, said in the statement.
Ant Financial used to be a part of Jack Ma's Alibaba Group Holding Ltd. but is now a separately owned business. It was valued at $75 billion by CLSA Ltd. in September and is said to be considering an initial public offering as soon as this year.
Euronet has a network of more than 35,000 ATMs and 800,000 point-of-sale terminals and has twice bid for MoneyGram, with offers in 2007 and again in 2013.
MoneyGram will hold a special stockholder meeting on May 16 to vote on Ant Financial's latest bid.
Read more: https://www.bloomberg.com/news/articles/2017-04-17/ant-financial-raises-moneygram-takeover-by-36-to-1-2-billion